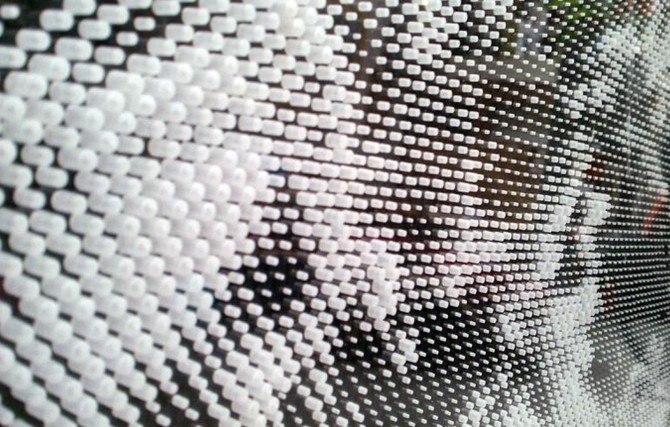 These works are the result of a process that has been in development for close to 2 years and has been used to produce stunning works on materials ranging from wood to plastic and acrylic to aluminum.
Each material adds its own character and qualities to the end piece making it suitable for a specific setting, be it for display in a gallery or hanging from the side of a building. Each piece consists of 12,000 to 18,000 thousand holes depending on the size and resolution. On average there are 8 different diameter size holes arranged in a way that they create the tonal qualities of the overall image/subject matter.
The technology and process developed for creating these works has its roots in half toning and the early years of printing but incorporates today's latest in computer processing and manufacturing technology. Half toning is a method of printing pictures (which naturally have a continuous scale of tones) using only a single ink for each color by varying the size and/or density of dots of ink. The halftone causes an optical illusion of a shade somewhere between the tone of solid ink and the contrasting tone of the background paper. Thus a black and white half tone image at close scale consists of black dots of varying diameter on white paper. All scales of gray are in turn created by different size black dots set against the white paper, in that the larger and the more dense the dots, the darker the shade of grey created. In the work depicted here variation in tone is created through different size holes in a given material as opposed to ink on paper. The pieces created on clear acrylic are worthy of special note. These pieces are created on 1" thick clear acrylic and each consists of about 16,000 holes of 8 different sizes. As the diameter of the hole increases so does the depth of the hole. All the holes are then filled with pigment creating an array of suspended "plugs" of color within the body of the acrylic.
These pieces are custom commissioned to order and can be specified in size, material and overall resolution. We are able to work with most imagery in the creation of these works.
The Earth
Buddha
Geisha
International Design Award
Anger
For this piece, each individual drilled hole was filled with black pigment to give the appearance of floating black plugs within the clear plex.
Yin
This piece utilizes the same technique and process however it is made on 1/4″ plate aluminum.
For a more complete catalogue of these works including dimensions please: